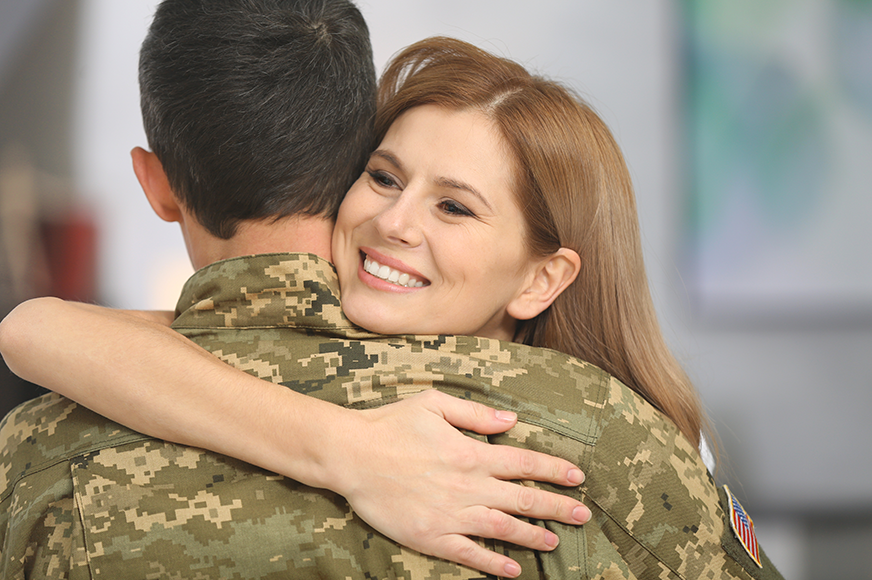 We love National Hug A G.I. Day, which happens every March 4. And while we salute the men and women who protect our country on this day—and those who embrace them—every day is Hug A G.I. Day in our world.
There's no end to the ways you can show G.I.s some love. In fact, the fine folks at nationalcalendarday.com have suggested sending a hug via phone, text, email or even snail mail, especially if your favorite G.I. is far away, but we have a few ideas of our own.
How To Hug A G.I.
If you're a housing agency, it's pretty simple. You give veterans and military personnel a distinct advantage when buying a home. Our Home Is Possible For Heroes homebuying program offers a below-market fixed interest rate on a 30-year loan, which either reduces the monthly mortgage payment or helps military heroes afford more house. (Oh yeah, and it can be combined with our Mortgage Credit Certificate program with fees waived for qualifying veterans and military personnel—something they'll appreciate every tax season for the life of the loan.) 
If you're a lender, a real estate agent or other homebuying professional, you can get HIP-qualified so you can help your clients take advantage of our veteran- and military-friendly programs. (Encouraging heroes to save money is definitely a form of hugging!) In 2016, we helped an average of nearly 30 military families each month benefit from this program. We hope to help even more this year.
If 'President Of The United States' and 'mad painting skills' happen to be on your resume, you may choose to pass out hugs a little differently, like George W. Bush is doing. His book, Portraits Of Courage, features Mr. Bush's writings about, and his paintings of, military heroes—and he's donating his share of the profits to the Military Service Initiative. 
And lastly, if you're a Nevadan who knows a veteran or member of the military interested in buying a home, you can let them know about the aforementioned Home Is Possible For Heroes program. Of course, we're guessing they'll kindly take a literal hug from you, too.
We invite you to learn about all of our homebuyer programs, and encourage you to reach out to us. We love talking about what we do.
Coming soon: National Teacher Appreciation Day, which is May 7. As you might guess, we'll be talking about Home Is Possible For Teachers.