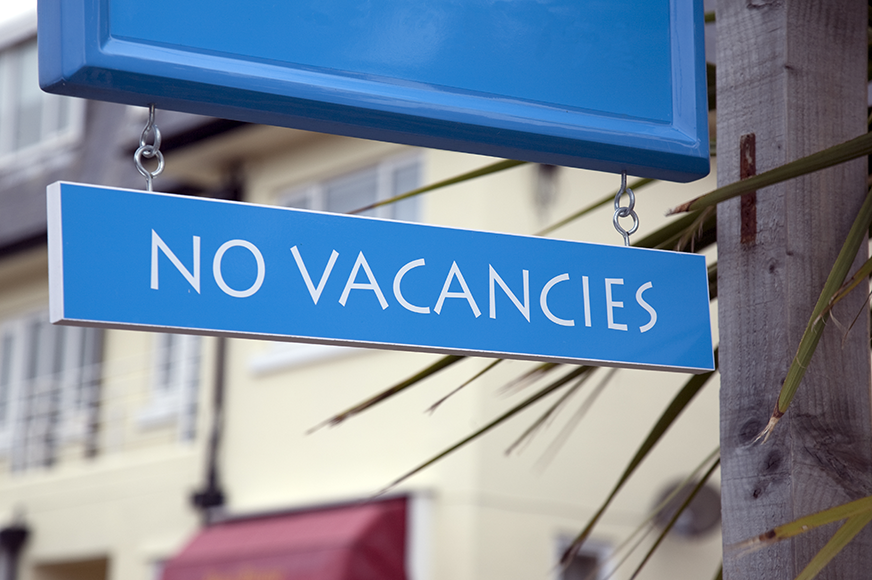 The results of our 2016 housing survey are in—and are very telling, especially if you're a renter or know someone who is. Nevada has work to do when it comes to affordable rental housing.
The 2016 Housing Survey Scoop
Every year, we conduct a rental housing survey. Why? Because we thrive on providing affordable housing opportunities. By gathering info on an annual basis, we keep our finger on the pulse of housing in Nevada, which in turn helps us direct resources and funding to where they can make the greatest impact.
This year's results are based on more than 22,000 affordable rental units statewide. The bottom line: The rental market in Nevada is tight again this year. Have a gander at these numbers: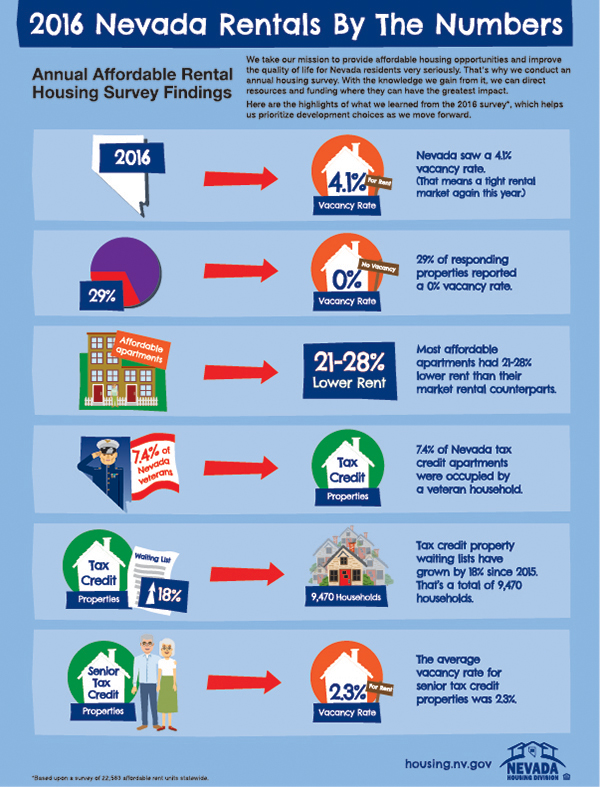 What are the takeaways from this infographic?
Finding available rental properties in Nevada isn't exactly a piece of cake. (It's even harder if you're looking for tax credit properties.)
If you're even entertaining the idea of renting, start looking ASAP. You may wind up on a waiting list.
Problem, Meet Solutions
The low vacancy rate of rentals across the Silver State is a problem—one we're tackling head on. For starters, we've developed a website dedicated to helping renters and property providers find each other. NVHousingSearch.org lists rental homes and apartments using a number of filters including price range, zip code and number of bedrooms, just to name a few. The site updates its listings daily, is free for property providers and renters alike, and has cool tools like a rent calculator and a moving cost calculator.
Nevada Housing Division is also helping to expand the supply of affordable housing, thanks to our celebrated public-private partnership with multiple private sector and non-profit developers. Together, we're able to finance rental property projects with 100 units or more. Right now, we're working on two innovative developments: the Summit Club in northern Nevada, which will provide work force housing; and Boulder Pines in southern Nevada, which in addition to affordable housing, will also house a charter school and a Boys & Girls Club. Naturally, we are excited for their grand openings. We'll keep you posted on the projects as they near completion.
Find Your Patience Hat
With the right head gear (your patience hat, that is) and the right tool (NVHousingSearch.org), we're confident you can find the rental property you're looking for. If you happen to decide that now is a good time to buy instead of rent, we can help you there, too. (Read: 3 Darn Good Reasons To Buy A House Lickety Split.) Find a lender and explore your options—it's never too early. Happy apartment or house shopping!