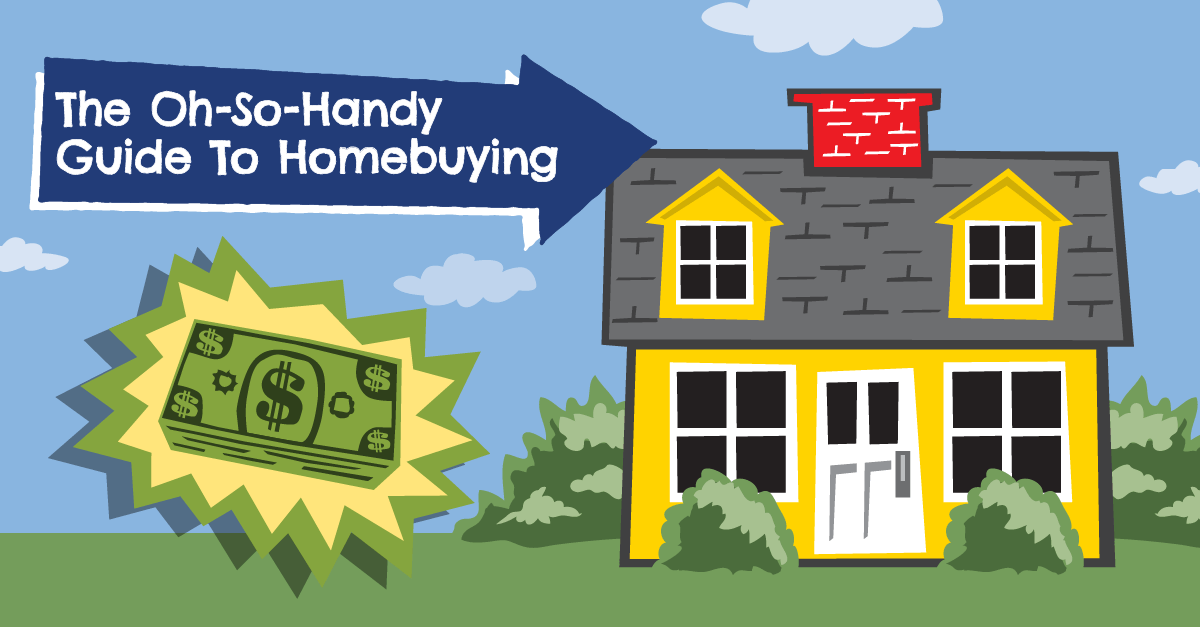 Owning your very own home is a pretty amazing experience, but at times, there can be a small problem: The process of buying it can be a bit overwhelming. If you're either a homebuying rookie or a seasoned homebuyer in need of a refresher course, we have just the thing for you (or your clients if you're a HIP-qualified lender or agent): The Oh-So-Handy Guide To Homebuying. Basically, it's 40 pages jam-packed with super helpful homebuying information. We carefully crafted it to make sure that any homebuyer can learn something new.
Learn At Mach Speed
The Oh-So-Handy Guide To Homebuying is a one-stop resource for info on many pertinent homebuying topics, only better. Not only have we consolidated lots of useful advice, we've included a number of outside resources that also have brainy things to share with homebuyers like you. By downloading the guide, you can come up a pretty steep learning curve at mach speed.
Hello, Sneak Peek
Hungry for smart homebuying tips and advice? Let's start with an appetizer—one piece of advice from each of the five chapters in the Oh-So-Handy Guide To Homebuying.
Chapter One: Why Owning Is Better Than Renting
As you already know, buying a home in most cases is more financially beneficial than
renting. What you may not know is that a mortgage is often less expensive than rent.
A recent article on Forbes.com further explains. "Over time, as the interest portion of your mortgage payment decreases, the interest you pay will eventually be lower than the rent you would have been paying."
Also noteworthy is that when interest rates rise, and they're bound to, the payment on a
fixed interest rate loan will stay put. Rent prices often rise with interest rates—one of many factors that can affect rent prices.
Chapter Two: Credit Scores & Your Financial House
It's a common misconception that checking your own credit will negatively impact your score. It won't. Forbes Magazine knows a thing or two about that. Pulling your credit report from reputable companies can also help you see where you're spending money and what interest rates you're signed up for. Some of our faves include:
• AnnualCreditReport.com: pulls from all three credit bureaus (for a fee)
• CreditKarma: pulls from two credit bureaus and is free
• Credit Sesame: offers a comprehensive analysis of your credit and debt (one credit
bureau)
• Mint.com: free credit score from one credit bureau and credit monitoring for a fee
• FreeCreditReport.com: free credit score from one credit bureau and credit monitoring
for a fee
Chapter Three: Super Awesome Homebuying Tips
It may be tempting to skip the real estate agent once you've calculated what their commission might be, but we have to stop you right there. For most people, this is the biggest financial decision you'll make in your life.
You need someone who's not only working on your behalf, but is also experienced in the art of negotiation, contracts, homebuying process, inspections and the big picture. And ultimately, it's the seller who pays both agents' commissions, so it's sort of a no-brainer. Work with a pro. Preferably, a HIP-qualified pro.
Chapter Four: The Best Homebuying Programs Ever
The average bonus money amount received per household with HIP is $8,720. And with a one-time fee of just $755, that's a lot of bonus Washingtons. If your loan value is higher than $218,000 (average loan value), you can expect even more bonus money.
Chapter Five: Train For Success
Homebuyer classes are designed to cover everything from the homebuying process and
mortgage options to credit management and budgeting. They're for anyone who wants to buy a home. More specifically, they're for you—even if this ain't your first rodeo. We've heard from experienced homeowners who took a class that they learned things they didn't know. That gives us goosebumps!
The NHD-approved classes listed on our website are available to any homebuyer, and are required for any Nevadan who participates in any of our homebuying programs.
Fast Download To Download Info Fast
If you liked the tidbits of info you read in the sneak peek, then you'll love our Oh-So-Handy Guide To Homebuying. There's more advice, tips and industry information that will quickly help you become the savvy homebuyer we always knew you could be.