Trees add value to our lives in so many ways. They prevent erosion of the soil, they provide shade, they're beautiful and, oh yeah, they help us breathe. But those roots can cause problems. Big problems. Read on to learn how to deal with them to save you hassle, as well as actual cash money.
We do love our trees in Nevada. And it's important to remember that they need a little love and attention at times — for their own health obviously, but also to keep our home and neighborhoods feeling (and looking) fine as well.
One of our Facebook fans, Kim M. tells the story of her neighbor's elm tree that eventually destroyed much of her backyard landscaping. "The neighbor's tree, located on our fence line, sent out six or eight large roots across our lawn toward the patio and the foundation of our house," she says. "We spent days digging the roots out, destroying a lot of our lawn in the process." Sounds like a little something out of Tremors, yes?
Chuck Brown, a certified arborist, says that roots seek water and they will continue to do so. And where do yards store the most water? The lawn.
While Kim and her family didn't have to deal with giant underground snake-like creatures (see the Tremors reference above), they did eventually have to have their backyard redone with a landscaper removing the rest of the roots in their yard in the process. Kim estimates that one tree cost her family well over $1,000, in addition to hundreds of hours cleaning up after it — due to those roots and numerous falling branches.
Understanding the potential challenges of invasive roots, what is a vigilant homeowner (or soon to be homeowner) to do? The answer to that depends on where you are in the homebuying process.
Get to the root of the tree problem before you buy
Before you buy a home, it makes sense to hire an arborist to evaluate the trees in your potential new yard, as well as in your potential neighbors'. Then the arborist can give you the lowdown on exactly what you're dealing with.  
Liz M., another Facebook fan, recommends going even further. "We spent $13,000 on a sewer line at a previous residence (because of tree root invasion), after years of spending money on maintenance prior to that," she shares. "If you're purchasing a home, pay to get the sewer scoped beforehand."
Sewer scoping isn't part of the regular inspection, so it will most likely cost more (around $300), but it could save you buckets of money later. You can back out of the deal or ask for a credit if they find problems. Liz asked for a sewer inspection on her current home, found a problem that would cost about $5,000 to fix and received some credit off the purchase price because of it.
If you're already in the home, you have some choices to make.
Before you plant, look into the tree's future
That little sapling will not stay little. Do the research to figure out which trees make the most sense for your yard as mature trees. "More often than not, we plant trees where they don't belong," Brown says. "And we often plant too many trees in a yard, not anticipating how big they're going to get."
Read: Don't fight Mother Nature, choose plants that thrive in Northern Nevada
Read: Creating your desert oasis – finding plants that dig Southern Nevada
He adds that it's often a matter of the wrong tree in the wrong location, whether that's in the lawn or too close to the house or other structures. "Certain species do a lot of tree rooting and others not as much," he says. "If you're putting it close to your home, you don't want a rooter."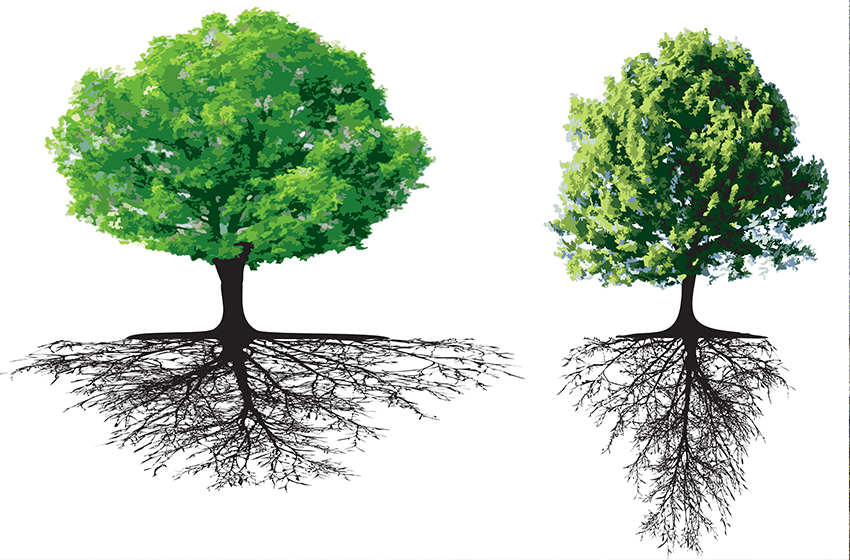 Brown says the easiest way to tell how far the roots will go is to look at the tree's canopy. "A good rule of thumb is that the canopy is proportional to the root system," he says. "The roots will extend as far as the canopy and sometimes beyond."
He recommends buying trees from local nurseries, rather than the big box stores so you can talk to people who understand our particular environment and can answer your particular questions.
Remember that certain trees are illegal in many cities, because of the damage they can cause. In Nevada, these could include willows, aspens or olive trees — yep, their good looks belie their dangerous roots.
Read: Don't plant these trees in your urban yard
Watch: Right tree, right place
Read: Southern Nevada Water Authority's: Choosing plants, trees and mulch
How do you deal with the trees you already have?
If roots are already causing you problems, you're going to need to deal with them. As with most things, the earlier you do it, the easier it will be. This is a topic we'll look at it in more depth in a future blog post, but the easy answer is to call in an expert. Dealing with roots is a complicated process — one that could end up killing the trees involved. If they're your trees, it's bad enough, but offing a neighbor's foliage could result in a costly lawsuit and awkward meetings at the mailbox.
Despite the challenges of managing nature's gifts, we're big fans of homeownership. If you're ready to buy, but you're short on your down payment or closing costs, check out our Home Is Possible family of homebuyer programs. Bonus money, attractive interest rates and/or annual tax savings can help you afford your dream home and your dream yard.