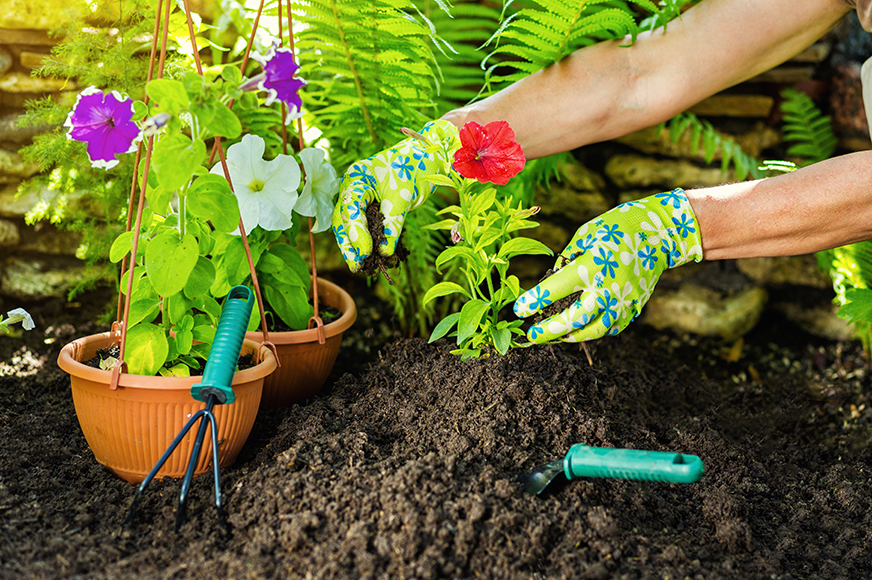 It's springtime at last. Yippee! Translation: Just around the corner are BBQs, quality time al fresco and the occasional super soaker fight (you know you wanna!).
Before we get ahead of ourselves though, we highly recommend tackling spring yard clean-up. A little work will go a long way in the enjoyment of your outdoor space all summer long. 
3 Basic Yard Care Steps
If you break down yard care into three main categories, the work may be less daunting, which is our goal here. With no further introduction, we give you clean-up, prep work and planting.
#1 Clean up
Help! The dead leaves, branches and other undesirables have fallen in your yard, and they can't get up. Not without you, that is. It's time to break out the rakes, shovels, clippers and trashcans, and remove all of the yuck. It's gotta go!
We hate to break it to you, but you're not quite done yet. Another traditional early spring clean-up chore is soil maintenance. Turn over the top layer of soil and aerate in garden beds, planters and lawns. In doing so, you'll be able to easily remove emerging weeds (don't forget the roots), expose any pest problems and ensure proper drainage for this year's bumper crops. (See #3 for more info on planting.)
A word (give or take) of caution: A new school of thought among the garden-savvy is that turning over the soil can actually awaken dormant weed seeds, helping them thrive. Oddly enough, research shows that stirring the dirt when it's dark out could reduce weed germination by up to 78%. (Looks like somebody's got a new after-dinner hobby.) Whichever direction you choose, make sure your soil isn't packed down.
And if your tools aren't brand new, you'll want to give them a good cleaning, sharpening and tuning up.
#2 Prep Work
In the prep work phase of spring yard care, soil enrichment, mulching and pruning top the list. Let's address these one at a time.
Soil enrichment
Truth be told, Nevada is not known for nutrient-rich soil. Clay, sand and rock lie beneath just about every square inch of ground in Nevada. So if you want to bump your bumper crop of plants, flowers and vegetables, soil enrichment is the key.
In case you don't want to guess what your soil needs are, have your soil tested.
Mulching
If you're going to the effort to install and care for plants, you absolutely should take the time to add mulch. Quite simply, mulch protects plants by controlling moisture evaporation, drainage, frozen roots and weed growth. Types of mulch include shredded bark, wood chips, straw and gravel.
Pruning
There's nothing we can say that Better Homes & Gardens hasn't already said very well, so we'll leave it there. Go check out their advice. Then pretty please come back. There's more!
#3 Planting
We could do a twelve-part series on planting in Nevada—the types of plants that flourish in southern and northern Nevada, the ideal planting window for various plants, landscape design, etc. However, we thought it would be much more efficient to steer you in the right directions. We know your time is valuable.
One important piece of advice: Call before you dig. It's important to know where the underground utilities are for your safety, and so things like your all-important internet and cable stay intact.
Hello, High Tech Gardening
If you want gardening tips at your fingertips, there's an app for that. Several, actually. HGTV was kind enough to share their top gardening app picks for the novice to the advanced gardener. They could quickly become your new gardening buddies.
If all this talk of caring for and beautifying a yard makes you want a home with a bigger/better/different outdoor space to work with, find a HIP-qualified real estate pro and start house (and yard) shopping!