In our last post, we talked about the dangers of tree roots and how they can not only  damage your home, but your neighbor's as well. In this blog we'll learn what to do about the darn things without starting a neighborhood feud.
Read: Touching up our Roots
But first, let's talk legal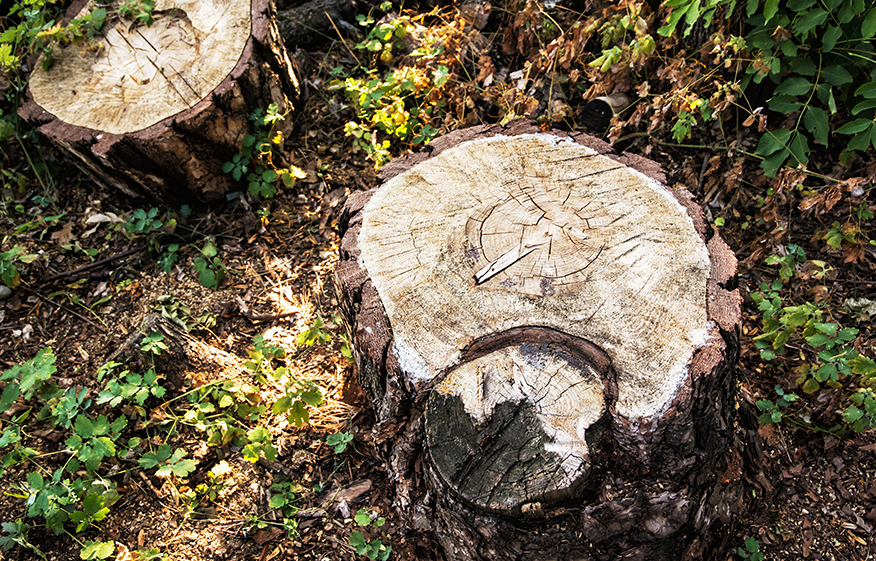 It basically comes down to this, if the roots from a neighbor's tree are causing more financial damage to your property than the cost of killing the tree, you may have a case for having your neighbor address the problem at their expense. If you think you have an issue, you'll want to get an evaluation and estimate from a professional arborist and then talk to your neighbor about it.
Remember that you have to live next door to this person, ideally exchanging recipes not insults. So try and work it out before taking the legal route. If your neighbor refuses to acknowledge the problem, you can hire an attorney to write a demand letter or you can try to mediate the dispute with a trained mediator. If that doesn't work, you'll need to consider whether to take them to court.
There are cases where you may want to lawyer up. Reno attorney Steven Silva, who focuses his practice on property law — yep, the sometimes messy issues between neighbors, says that roots are a particularly sensitive issue. "It depends on whether [your neighbor's] roots are causing actual financial damage to your property and, if so, how much damage," he shares.
"It's expensive to go to court, so you have to balance it," Silva adds. "And even a demand letter can sour the mood in your neighborhood. It can be a very delicate situation."
If you decide to go this alone, without legal representation, you could get yourself in a world of hurt. "If your neighbor's tree damages your structure, they could be liable for damages," Silva says. "However, if you intentionally damage their tree, you could be liable for triple damages — three times the value (not cost) of the tree." 
Silva notes that generic explanations aren't a substitute for legal advice, and that it is worthwhile to consult with a licensed attorney who can analyze the specifics of your particular situation.
Something to consider — if your problem with exposed roots is that they're unsightly in your lawn, you may want to let it go, as the fix can sometimes be a bigger challenge than the problem. However, if the roots are heading toward a structure, you'll want to deal with them sooner rather than later to avoid costly damage.
Read: Right Tree, Right Place
Getting to the root of the problem 
Once you've (hopefully) established who's responsible for dealing with the tree issue, there are a number of ways to address them. We're guessing you're no Paul Bunyan, and that you're not equipped to take down a tree safely and effectively. Which is why we're REAL BIG FANS of hiring professionals to take care of jobs like this. It is one DIY task fraught with potential problems.
If it's your tree (and you know that for sure), you have some options. You might be able to cut back the roots or you might need to cut down the entire tree. 
It's important to note that there is no guarantee you won't damage a tree (and potentially kill it) by cutting its roots, so consider this very carefully.
Like a bad penny or an irritating telemarketer, roots will continue to grow back as long as the tree is still alive, so you'll need to monitor the growth and stay on top of it.
When volunteers are bad
Volunteer trees are uninvited guests, aka weed trees. They grow on their own, rather than being deliberately planted, often times in your lawn or someplace else equally inconvenient. The easiest way to eliminate weed trees is to pull or dig them up when they're small. Certified arborist Chuck Brown says you can also control them in your lawn by keeping it mowed and fertilized.
In order to keep the volunteers off your lawn in the first place, Dale Carlon, a professional arborist with Truckee Meadows Water Authority, recommends installing BioBarrier, a fabric you can install between the tree and the lawn. In addition to the physical barrier, many brands also release an herbicide to prevent root penetration, while permitting water and nutrients to pass through.
Does the tree need to come down?
There are times when the only solution is to remove the tree, and the stump will also need to be ground down to prevent it from re-rooting. Have we mentioned lately how important it is to be careful? If the trees aren't cut down properly, they can come crashing down on the fence, or worse, the house.
Click here to watch a video of Old House landscape contractor Roger Cook and chainsaw safety expert Tim Art cutting down a tree. And then, you know, seriously consider paying a professional to take care of it.
GardeningKnowHow.com shares: Freshly cut stumps treated right away with glyphosate will usually kill the roots. If you cannot afford stump grinding, drill holes in the stump and cover it with soil or fill it with a stump decay accelerator.
While dealing with a rogue mulberry tree may sound involved and even a bit scary, it's a short-term problem. Don't let it dissuade you from long-term homeownership. If you're ready to buy, but you're short a down payment or closing costs, check out our Home Is Possible family of homebuyer programs. Bonus money, attractive interest rates and/or annual tax savings can help you afford your dream home and a professional to help with the landscaping.